The Cardano price is experiencing a strong year-to-date (YTD) increase of around 62%. Nevertheless, ADA is facing a crucial make-or-break moment in the 1-day chart, which could decide the long-term trend.
At press time, the ADA price was at $0.40, registering a slight 1.1% decline over the past 24 hours, with a 5.4% gain for the week. This puts the price just below the critical resistance zone between $0.405 and $0.42 after ADA broke out of a downtrend in mid-January that has lasted since June 2022 (blue line in the chart).
The zone between $0.405 and $0.42 served as extremely strong support for the price from May to early October 2022, before the downside break happened on October 10. Since then, support has turned into key resistance. To make matters more complicated, the 200-day EMA is now approaching the top of the resistance zone at $0.42.
The 200-day moving average is an indicator that determines the long-term trend of an asset. When the price breaks above the 200-day moving average indicator, it usually signifies a trend reversal and a return to bullish territory.
The fact that the 200-day EMA and resistance zone are now coinciding presents the Cardano (ADA) price with a make-or-break moment.
If the price can breach this level, ADA bulls could gain the upper hand. If the bulls fail, there could be a retest of support at $0.373 and subsequently the 100-day EMA at $0.348.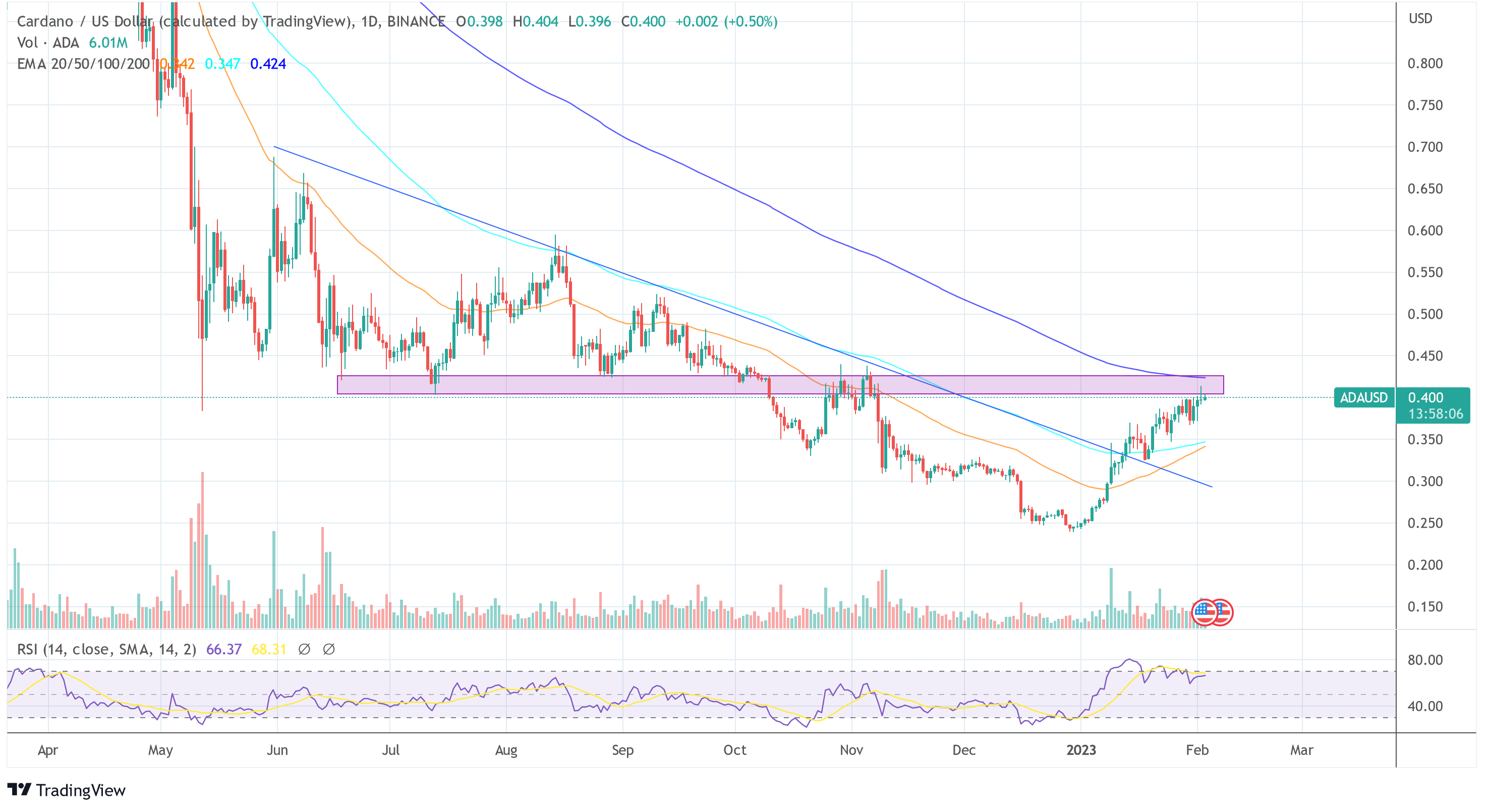 New Cardano Stablecoin To Drive Price Above Resistance?
In addition to a boost from macroeconomic events and the broader financial markets, ADA investors can also hope for a Cardano network-intrinsic reason for a rally such as the overcollateralized stablecoin Djed launched on the mainnet on Tuesday.
A whopping 1.85 million DJED were minted since the launch. However, growth has remained modest for now. While Djed's TVL was $10.35 million according to DefiLlama's data, it has since increased only slightly to $11.67 million.

The basic principle of the Djed stablecoin is to use the volatile value of ADA to create a stablecoin whose value is pegged to the USD. This makes ADA a kind of reserve currency.
Since Djed is an overcollateralized stablecoin with a reserve ratio of 400%-800%, it theoretically has the potential to create a considerable shortage in the supply of ADA and thus influence the price. The stablecoin currently has a reserve ratio of 633%, which means that each DJED is backed by more than six times its value in ADA.
However, with currently 29.4 million ADA, Djed does not yet draw the large volume to have an impact on the price. In total, Cardano has a circulation supply of 34.6 billion ADA. Thus, it remains to be seen whether Djed can continue to grow and thus contribute to a supply shortage for ADA.
Featured image from Kanchanara, Chart from TradingView.com