The crypto and legacy markets could see a spike in volatility in a few hours. Jeremy Siegel, the Wharton School of Business Professor, told CNBC's 'Closing Bell: Overtime' that "it will be a disaster" if the United States Federal Reserve (FED) increases rates by 50 basis points on February 1, 2023.
FED Have To Increase Interest Rates By 0.25%
The Professor insisted that if the FED mentions any figure "that's not 25 basis points" during today's meeting, the effects would be far-reaching.
Besides changes in interest rates, Jeremy wants to see the FED change its statement's wording and expressly mention that their monetary policy decisions over the past months have been working. He adds that it would be refreshing for the FED to assure the market that they are near the end of their tightening cycle.
Crypto and legacy market participants expect the United States central bank to slow down on rate hikes in the coming months. However, traders' and investors' hope could be dashed if policymakers assess market conditions differently and see the need to keep rates high. 
Economists expect the FED to increase interest rates by 25 basis points to 4.75%, up from 4.50%, on February 1, 2023. The bank began raising interest rates in January 2022. Over the months, the prevailing interest rate in the United States has risen from 0.25% in January 2022 to 4.50% by the close of 2022.
Falling Inflation, Rising Crypto, And Bitcoin Prices
Inflation is among the many factors, including labor conditions, which the FED considers when determining interest rates. The effects of the COVID-19 pandemic and the need for the government to intervene and cushion its citizens saw governments slash rates to record levels.
According to Jeremy, inflation was inevitable with "money being poured on and on, "and it did sharply in 2021 and 2022. Recent readings show that the Consumer Price Index (CPI), a metric tracking price pressures on consumer goods and a proxy to gauge inflation, has been slowing down after rising to multi-year highs. 
In December, inflation dropped to 6.5%, making it the sixth consecutive month of falling consumer prices. It peaked at 9.1% in June 2022 before falling to 6.5% in December, 1% less than in January 2022, when inflation stood at 7.5%. 
Bitcoin prices briefly recovered in December 2022, bottoming up after losing over 60% in 13 months from November 2021, in reaction to changing macroeconomic conditions, mainly inflation.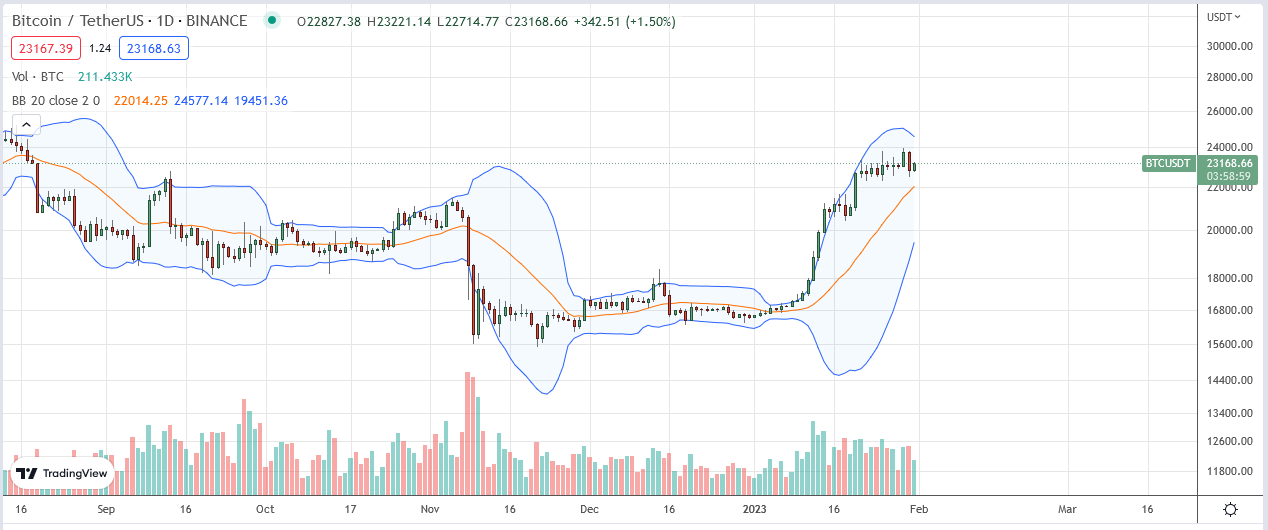 Over the past weeks, Bitcoin prices have been tracking higher as the crypto market expects inflation to cool down and the FED to slow down on tightening in 2023.
For this reason, how the FED acts could shape the short-term price formation for Bitcoin. The coin sharply recoiled from around $24,000 on January 30 but steadied yesterday.
Feature image from Canva, Chart from TradingView.