The Covid-19 pandemic has changed a lot about existing industries, with some notable sectors like lottery growing bigger as a result. Before the pandemic, the traditional lottery industry operated based on physical sales points, but this is now changing as stakeholders move to adopt digital ecosystems.
Even better, the advent of crypto assets is revolutionizing the industry, making it globally accessible. This article will review Crypto Millions Lotto, owned by the U.K. registered Wilmington Holdings PLC, one of the players that have integrated Bitcoin within its operations to enable more participation in some of the largest lotteries in the world.
At the helm of Crypto Millions Lotto is financial markets veteran Sulim Malook; his experience dates back to the 1990s when he was an options trader focusing on Government Bonds Futures at the London International Financial Futures Exchange (LIFFE). This foundation led Sulim to develop a BlackBerry stock market application that was later converted into a lotto-style game based on share prices.
Eventually, Malook sold the stock market application to a South American company whose niche is online lotteries. As fate would have it, the business demands in the growing lottery industry motivated Malook to develop solutions that could facilitate global participation. Crypto Millions Lotto was born in this process.
About Crypto Millions Lotto
Unlike traditional lotteries, which mostly rely on fiat and card purchases, Crypto Millions Lotto offers participants an opportunity to play lotteries through Bitcoin. Essentially, this initiative functions as a Bitcoin lottery which means that users buy 'chips' in the form of BTC and can sell the coins for fiat if they win a particular lottery.
Licensed by the Government of Curaçao, Crypto Millions Lotto acts as a facilitator or access point to eight international lotteries. These lotteries are available across 180 nations, a massive step from the traditional lottery industry, limited by jurisdictions. Ideally, Crypto Millions Lotto leverages Bitcoin to avoid the cross-border hurdles in accessing lucrative lotteries.
Some of the top lotteries featured by Crypto Millions Lotto include Mega Sena (Brazil), Oz Lotto (Australia), Superenalotto (Italy), 6aus49 (Germany), Euromillions, U.K. National Lottery, LottoMax (Canada) and Loto 7 (Japan). Crypto Million Lotto users can purchase BTC and play any of these lotteries, standing a chance to win $10 million to $250 million.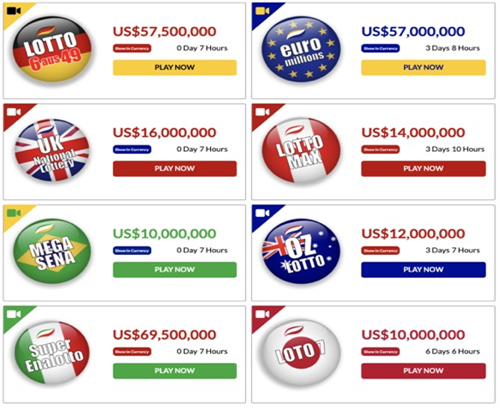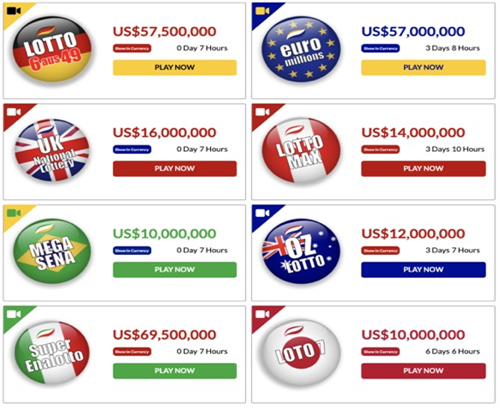 Image Source: Crypto Millions Lotto
Notably, Crypto Millions Lotto only acts as a facilitator to the lotteries. As for the winnings, they are determined based on the officially televised results by each national lottery. Users whose numbers happen to win the lottery can then cash out their Bitcoin 'chips' through Crypto Millions Lotto to receive their prizes within the same day.
Besides the Bitcoin lottery, Crypto Millions Lotto also features online games and casinos where users can play through microbitcoin units (μBTC); one unit is equivalent to 0.000001 BTC. Some of the exciting games that users can play include Super Reno, Caribbean Poker, Black Jack, Bonnie & Clyde and 777Heist, amongst others.
Payments and Cashing Out
As mentioned earlier, Crypto Millions Lotto only supports Bitcoin. Users whose money is in fiat or card have to convert it into crypto to play the available lotteries. Once they have registered, Crypto Millions Lotto offers users a Bitcoin address, enabling them to transfer BTC from another wallet to the Crypto Millions Lotto account. It is also noteworthy that the platform's minimum deposit is $12.50 worth of BTC.
On cashing out, Crypto Millions Lotto introduces a more effective way compared to the traditional counterparts. The platform uses Bitcoin to facilitate same-day payments on lottery winnings instead of relying on legacy payment networks. It is one of the main cutting-edge functionalities of this Bitcoin-focused lottery. Users can transfer their Bitcoin winnings to other wallets and cash out through crypto exchanges or other digital asset marketplaces.
While signing up on Crypto Millions Lotto does not require KYC, users have to provide proof of identity before they can cash out any winnings over 1 BTC.
Bonuses and Referral Programs
Like most lottery initiatives, Crypto Millions Lotto features a joining bonus and affiliate program to incentivize adoption. First-time users on the platform are given six free entries to the available lottery plays, making them eligible to win a prize before even depositing any BTC. However, the prizes are higher for users who allocate Bitcoin to the lottery plays.
The Crypto Millions Lotto affiliate program allows users to earn Bitcoin by referring their friends or associates. This program provides users with a link that can be shared to trigger a commission based on the players that register, make a deposit and enter into one of the available draws.
Did you know? Crypto Millions Lotto was selected as a cryptocurrency affiliate program to watch in 2021.
Once a user has registered with the Crypto Millions Lotto affiliate program, they can track their earnings in real-time. The project has set a 15% commission on top-line sales for referrers that buy a ticket and a 5% cashback for any wins by their players. In addition, affiliates whose players interact with other games can earn up to 25% – 35% of the net gaming revenue.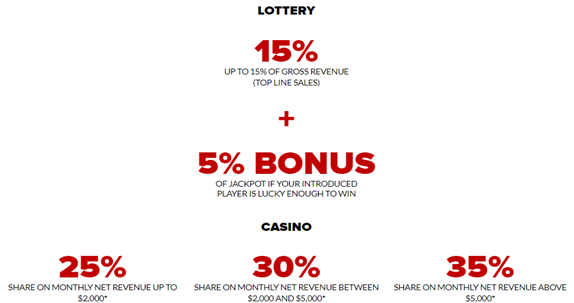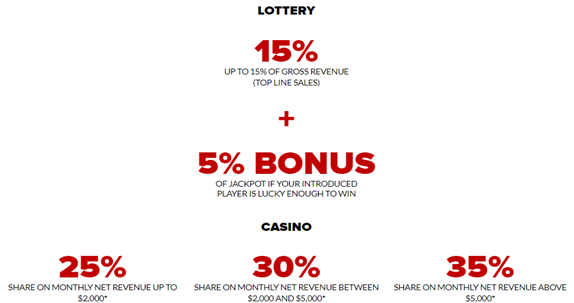 Image Source: Crypto Millions Lotto
Privacy and Security
Security and data privacy are among the significant concerns of any market stakeholder in this decade. Crypto Millions Lotto is using blockchain technology to encrypt and secure payment details. Despite the Bitcoin address being public and accessible, the platform does not reveal users' private information.
According to a breakdown on the security approach, Crypto Millions Lotto uses a three-part strategy to ensure security and data privacy. First, the platform's servers are based in Switzerland, where they must comply with tight security standards. These servers are ISO/IEC accredited and Tier 3 certified.
The second strategy involves storing users' Bitcoins in cold storage, making it hard for malicious actors to compromise the funds. Last but not least, Crypto Millions Lotto ensures all the jackpots, which means that users do not have to worry about uncertainties that usually affect lottery payouts.
The Future of the Lottery Industry is Digital
As the world becomes more digitally connected, most of the existing traditional industries have integrated digital solutions in one way or another. The shift can be seen in the lottery industry from physical stores to online websites where users can purchase tickets for entry into various draws. However, a global solution in the payments niche still lacked until the debut of digital currencies.
With Bitcoin now in the picture, it is evident that online lotteries such as Crypto Millions Lotto will likely forge the future of this industry. According to Crypto Millions Lotto CEO Sulim Malook, Bitcoin was the missing factor in globalizing the lottery industry. Don't hyperlink the part in yellow, hyperlink the part in green to the same article.
"Playing games across borders using a credit card or any other traditional form of payment is fraught with complications and frustrations such as whether the payment can be made or if it will be blocked, the exchange rate and payment periods. Using bitcoin for a digital lottery removes all of that because there are no borders."
Going by the developments in digital currencies and online lotteries, the writing on the wall points towards a possible integration. First movers like Crypto Millions Lotto will likely unlock more solutions to revolutionize the lottery industry.